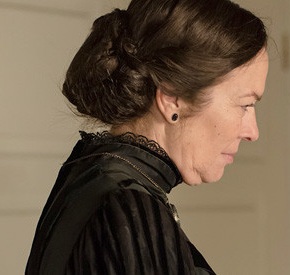 Descripción general
Edit
La señora Sagrario Celande de Vera es la madre de Adrián Vera Celande. Cuando su hijo fue acusado de haber torturado y matado a su esposa, Sagrario no volvió a saber nada de su él, pues éste se dió a la fuga y huyó para siempre.
Desde entonces ha estado buscándole en secreto. Le encontró por casualidad durante su estancia en el Gran Hotel mientras se hacía una subasta. Sagrario fue al Gran Hotel con la intención de comprar una caja musical en la subasta que pertenecía a la familia y que gustaba mucho a su hijo.
La serie da a entender que el encuentro y la subasta fueron organizados por Samuel Arriaga para torturar la mente de Adrián Vera Celande.
Tras el reencuentro con su hijo (y después de que éste le dijera a su madre que era inocente y ella prometiera darle su herencia), Sagrario es asesinada por Samuel Arriaga.
Fue interpretada por Susi Sánchez.
Ad blocker interference detected!
Wikia is a free-to-use site that makes money from advertising. We have a modified experience for viewers using ad blockers

Wikia is not accessible if you've made further modifications. Remove the custom ad blocker rule(s) and the page will load as expected.