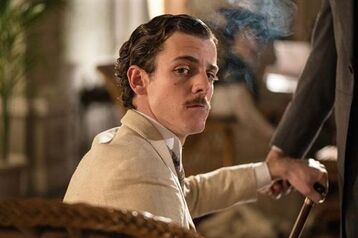 Descripción general
Edit
El Rey Alfonso XIII habita el Gran Hotel durante una breve estancia para estar junto a su amante Rosemary. Para ello usa un nombre de incógnito (aunque Alfredo Vergara, el director del hotel es totalmente consciente de la presencia del Rey y trata de que todo sea lo más cómodo y apropiado para él).
El propio Alfredo salva al Rey de ser descubierto con su amante por su mujer la Reina Victoria Eugenia. Alfredo a cambio busca que el Rey le otorgue de nuevo un gran título nobiliario, pero Alfonso XIII decide nombrar a Alfredo unicamente "Señor de Cantaloa".
El Rey Alfonso XIII finalmente, y para disimular ante la Reina que su alojamiento tan solo se debía para estar con su amante, alarga su estancia (y la hace pública) para presenciar junto a la Reina una gala-cena benéfica a favor de los huérfanos de Cantaloa.
El Rey Alfonso XIII es interpretado por Guillermo Barrientos.
Ad blocker interference detected!
Wikia is a free-to-use site that makes money from advertising. We have a modified experience for viewers using ad blockers

Wikia is not accessible if you've made further modifications. Remove the custom ad blocker rule(s) and the page will load as expected.