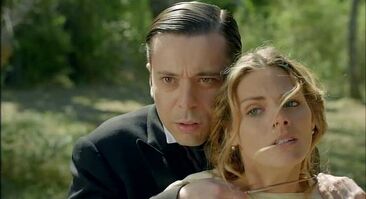 Descripción general
Edit
Pascual era el recepcionista del Gran Hotel. Eran también el novio de Cristina Olmedo.
Pascual fue quien rescató a Cristina en los jardines del Gran Hotel la noche de la fiesta de la luz. Cristina estaba medio moribunda al haber sido abatida por Diego Murquía. Pascual se encarga de recoger a Cristina, esconderla y cuidarla mientras se recupera.
Tanto Pascual como Cristina deciden que ella finja su muerte mientras los dos chantajean a los Alarcón. Sin embargo durante el chantaje Pascual es descubierto por Julio y Alicia, y por Diego que los sigue.
Pascual acaba muriendo de un disparo de Diego mientras Pascual amenazaba a Alicia con un cuchillo.
Fue interpretado por Alejandro Cano.
Section heading
Edit
Write the second section of your page here.
Ad blocker interference detected!
Wikia is a free-to-use site that makes money from advertising. We have a modified experience for viewers using ad blockers

Wikia is not accessible if you've made further modifications. Remove the custom ad blocker rule(s) and the page will load as expected.