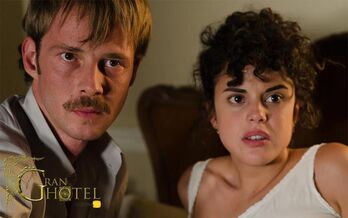 Descripción General
Edit
Mercedes es una joven de clase alta e hija de un prestigioso militar (el General Don Alejandro), también tiene una hermana: Eugenia.
Mercedes es clienta del Gran Hotel adonde llega para visitar a su familia: a su padre Don Alejandro y a su hermana Eugenia; y para conocer al prometido de ésta: Javier Alarcón. Mercedes es seducida por Javier con el que tiene relaciones aun siendo éste el prometido de su hermana.
Su hermana Eugenia descubre el engaño y enfurece con Mercedes. Las dos hermanas mantienen entonces una lucha por el amor de Javier Alarcón.
Eugenia finalmente, presa de los celos, tira a su hermana por un balcón del Gran Hotel (que queda en coma) para luego suicidarse.
Mercedes acaba recuperándose de la caída y marchándose del Gran Hotel con su padre.
Es interpretada por Patricia Delgado.
Ad blocker interference detected!
Wikia is a free-to-use site that makes money from advertising. We have a modified experience for viewers using ad blockers

Wikia is not accessible if you've made further modifications. Remove the custom ad blocker rule(s) and the page will load as expected.