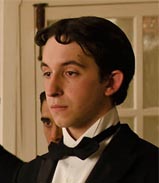 Descripción general
Edit
Jesús Taberner es un camarero del Gran Hotel. Tímido y reservado, parece que sólo le interesa hacer bien su trabajo aunque de vez en cuando comparta cotilleos con el resto de empleados del hotel.
Jesús fue uno de los camareros afectados por la intoxicación de opio producida por Javier. Sin saberlo, dió aviso a Julio la noche que Alicia, hipnotizada, iba a matar a Diego. También vió como Andrés y Belén forcejeaban en la cocina la noche que Belén desapareció. En el penúltimo capítulo recibe una paliza a manos de Diego que quiere conocer el paradero de Julio. En ese momento Ángela se da cuenta que es hora de cambiar las condiciones del servicio del Gran Hotel.
Jesús Taberner está interpretado por Tato Loché.
Section heading
Edit
Write the second section of your page here.
Ad blocker interference detected!
Wikia is a free-to-use site that makes money from advertising. We have a modified experience for viewers using ad blockers

Wikia is not accessible if you've made further modifications. Remove the custom ad blocker rule(s) and the page will load as expected.