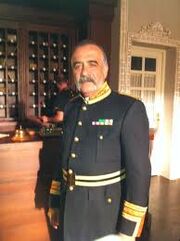 General Don Alejandro
Edit
El General Don Alejandro es un prestigioso militar, cliente habitual del Gran Hotel y también amigo de la familia propietaria: los Alarcón. Tiene 2 jóvenes hijas casaderas que acuden con él a veces al Gran Hotel: Doña Eugenia y Doña Mercedes .
Al sorprender a una de sus hijas (Eugenia) teniendo relaciones con Javier Alarcón, el General y la madre de Javier Doña Teresa acuerdan comprometer a sus dos hijos para casarlos. Durante el compromiso Javier se enamora de la otra hija del General (Mercedes) y engaña a su prometida. Esto causa un gran conflicto entre las hijas del General que se pelean por el amor de Javier Alarcón, un conflicto que acaba en desgracia cuando Doña Mercedes es herida por su propia hermana y cuando además Doña Eugenia se suicida.
El general considera que el honor de su familia ha sido ultrajado por Javier y le reta a un duelo de armas, pero el duelo es suspendido cuando el General recibe la alegre noticia de que su otra hija, Mercedes, se ha recuperado de la gran caída.
El General es interpretado por Miguel Ángel Jenner.
Ad blocker interference detected!
Wikia is a free-to-use site that makes money from advertising. We have a modified experience for viewers using ad blockers

Wikia is not accessible if you've made further modifications. Remove the custom ad blocker rule(s) and the page will load as expected.