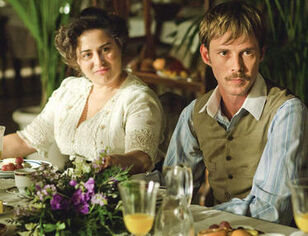 Descripción general
Edit
Doña Eugenia fué durante un periodo de tiempo la prometida de Javier Alarcón hasta que ésta se suicidó.
Eugenia es una joven de clase alta de caracter vivaracho. Es hija de un prestigioso militar (el General Don Alejandro) y tiene una hermana: Mercedes.
Nada más llegar al hotel, Eugenia es seducida por Javier Alarcón y ambos mantienen relaciones. Tras ser descubiertos por el General Don Alejandro, éste compromete a su hija en matrimonio con Javier. Eugenia no puede estar más contenta con el compromiso, ya que se ha enamorado de Javier. Pero Javier no tiene ninguna gana de casarse, y además engaña a Eugenia durante el compromiso con la hermana de ésta: Mercedes.
Eugenia lo descubre y se vuelve furiosa, violenta e irancunda. Empuja a su hermana Mercedes por un balcón del Gran Hotel y casi pierde la vida. Finalmente Eugenia decide suicidarse al ver que Javier no la corresponde y ha hecho de su vida un infierno.
Eugenia fue interpretada por Inma Cuevas.
Ad blocker interference detected!
Wikia is a free-to-use site that makes money from advertising. We have a modified experience for viewers using ad blockers

Wikia is not accessible if you've made further modifications. Remove the custom ad blocker rule(s) and the page will load as expected.