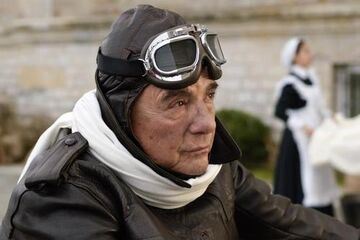 Descripción general
Edit
Don Ernesto Valera es el nuevo maitre del Gran Hotel que es contratado tras la desaparición de Don Benjamín.
Don Ernesto es impecable y perfecto en su trabajo, donde no dice ni una palabra. Pero en privado es un hombre cercano, con buen trato y muy buen humor. Esto es algo que provoca la ira de Ángela que no concibe que se trabaje sin rectitud y seriedad.
Aun así, esta desunión poco a poco se va convirtiendo en una extraña amistad y complicidad entre ambos. Ernesto finalmente trata de cortejar a Ángela en numerosas ocasiones, llegando a regalarla unos pendientes. Pero al ver que Ángela no le corresponde, Ernesto decide dejar el Gran Hotel con una emotiva carta de despedida a Ángela (que ya comenzaba a sentir algo por el).
Fue interpretado por Juan Luis Galiardo (siendo éste su último papel en la pantalla).
Ad blocker interference detected!
Wikia is a free-to-use site that makes money from advertising. We have a modified experience for viewers using ad blockers

Wikia is not accessible if you've made further modifications. Remove the custom ad blocker rule(s) and the page will load as expected.