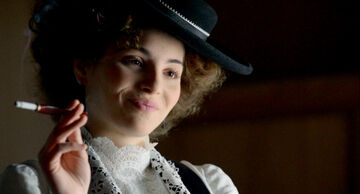 Descripción general
Edit
Celia Velledur es una joven millonaria y caprichosa proveniente de una familia muy adinerada.
Celia pretende comprar el Gran Hotel. Sus intenciones son hacerse con la propiedad para usarla como residencia particular.
Cuando propone la compra, Diego Murquía es el dueño del hotel. Diego acepta la propuesta pues desea irse a vivir lejos de Cantaloa con Alicia, pero Doña Teresa no está dispuesta a tolerar que el Gran Hotel sea utilizado como residencia particular de los Velledur, ni permitirá que el Gran Hotel se aleje de la influencia de los Alarcón, así que encarga el asesinato de Celia que es abatida en la noche de regreso a casa.
Fue interpretada por Andrea Duro.
Ad blocker interference detected!
Wikia is a free-to-use site that makes money from advertising. We have a modified experience for viewers using ad blockers

Wikia is not accessible if you've made further modifications. Remove the custom ad blocker rule(s) and the page will load as expected.