Cantaloa es un pequeño pueblo ficticio de la provincia de Santander (cerca de la costa cantábrica) donde se desarrolla la serie (en realidad las escenas fueron grabadas en el pueblo de Patones en la Comunidad de Madrid mientras que los alrededores fueron grabados cerca de Santander).Edit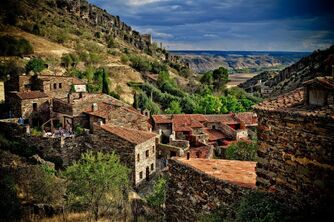 Cantaloa es un pueblo tranquilo, pequeño y humilde, sin mucha vida. Sin embargo el Gran Hotel es su encanto principal (y la principal atracción del pueblo). Según una anciana con la que Julio Olmedo se encuentra en el primer episodio, la gente prácticamente sólo va a Cantaloa para hospedarse en el Gran Hotel o para trabajar allí.Edit
En el pueblo de Cantaloa se han sucedido varios acontecimientos en la serie, sobre todo en la taberna del pueblo y en la gruta del Cuerpo de Vigilancia, pero también en la herrería, la Iglesia, la Pensión, el mercadillo, el bosque o la estación de ferrocarriles.
Edit
Ad blocker interference detected!
Wikia is a free-to-use site that makes money from advertising. We have a modified experience for viewers using ad blockers

Wikia is not accessible if you've made further modifications. Remove the custom ad blocker rule(s) and the page will load as expected.