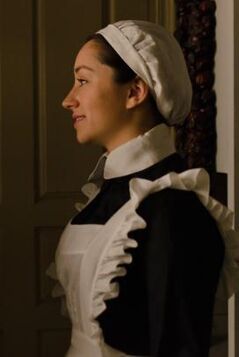 Descripción general
Edit
Camila es una joven doncella del Gran Hotel.
Cuando llega, enseguida forma una gran amistad con Andrés. Ángela también le tiene cariño.
Camila se acaba enamorando de Andrés a pesar de que él está casado con Belén, sin embargo la relación con Belén ya está rota por parte de Andrés así que él y Camila inicia un noviazgo.
Cuando Andrés es reconocido como hijo de Don Carlos Alarcón e inicia una nueva vida como señor en el hotel, Camila y él siguen estando juntos. Juntos se apoyan en muchos problemas como cuando Camila fue gravemente herida y estuvo estuvo a punto de morir en la explosión del Gran Hotel (en la que además perdió al hijo que esperaba), o cuando Belén trató de interpornerse en su relación.
Pero Belén, que aun es la mujer de Andrés, no duda en boicotear la relación de Andrés y Camila en todo momento (pues Belén quiere volver con Andrés ahora que es un señor de clase alta).
Finalmente las tretas de Belén surten efecto y Camila acaba yéndose del Gran Hotel tras romper con Andrés por celos de Belén.
Camila es interpretada por Andrea Trepat.
Ad blocker interference detected!
Wikia is a free-to-use site that makes money from advertising. We have a modified experience for viewers using ad blockers

Wikia is not accessible if you've made further modifications. Remove the custom ad blocker rule(s) and the page will load as expected.