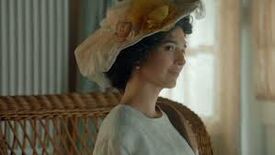 Descripción general
Edit
Doña Beatriz es una mujer de clase alta, una Baronesa de alta alcurnia que es gran amiga de la familia Vergara (en especial guarda muchísima amistad con la Marquesa de Vergara, Doña Elisa). Es también un antiguo amor de Alfredo Vergara.
A pesar de que Alfredo está casado con Sofía Alarcón, la Marquesa Doña Elisa insiste en romper el matrimonio y en que su hijo obtenga la nulidad. Para facilitar la decisión de su hijo, la Marquesa acude al Gran Hotel con Beatriz para que su hijo recuerde la relación que tuvieron. Beatriz se alia con la Marquesa para romper el matrimonio de Alfredo y Sofía. Y así, Beatriz vuelve a acercarse a Alfredo y trata de converncerlo para que vuelva con ella y obtenga la nulidad matrimonional de Sofía.
Pero Sofía no está dispuesta a que eso ocurra y acaba asesinando a Beatriz que muerre acuchillada por Sofía en los jardines del Gran Hotel. Sofía no es descubierta por el asesinato (que es falsamente atribuído al asesino de cuchillo de oro.
Beatriz fue interpretada por Cristina Brondo.
Ad blocker interference detected!
Wikia is a free-to-use site that makes money from advertising. We have a modified experience for viewers using ad blockers

Wikia is not accessible if you've made further modifications. Remove the custom ad blocker rule(s) and the page will load as expected.