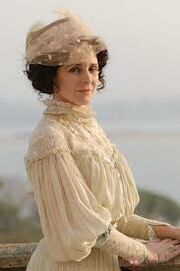 Descripción general
Edit
Adriana es una mujer casada de clase alta que se aloja durante una temporada en el Gran Hotel.
Amante de las noveles románticas, anhelante y soñadora, Adriana acaba siendo seducida por el joven Javier Alarcón y abandona a su marido (Eusebio. Un hombre violento que no se toma nada bien el abandono) por él. Tanto ella como Javier se han enamorado y tratan de pensar en una vida juntos a pesar de su diferencia de edad, y de las complicaciones de ella al ser una mujer casada y con una hija.
Adriana incluso invita a su hija al Gran Hotel para que conozca a Javier, pero cuando Adriana les ve juntos en actitud comprometida decide abandonar a Javier y al hotel (aunque Javier en ningún momento estuvo con la hija, ya que todo fue una encerrona orquestada por la hija y el marido de Adriana para que ésta volviera a casa).
Adriana es interpretada por Silvia Marsó.
Ad blocker interference detected!
Wikia is a free-to-use site that makes money from advertising. We have a modified experience for viewers using ad blockers

Wikia is not accessible if you've made further modifications. Remove the custom ad blocker rule(s) and the page will load as expected.